All the Summer feels with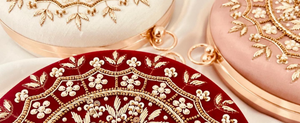 intricately crafted CLUTCHES
enticing embroidery, have a quality finish, and are instant conversation starters because of how unique they are.
Light up your home this Ramadan with pieced proudly Canadian curated pieces.
SAVE 10% Off On
Use Code: "BOUGIE10" at checkout!
PRESS/MEDIA
DESIGNER PARTNER SHOWCASE
We're passionate about supporting individual designers and teams who strive to make a difference.
Learn More about our partnerships aimed at driving positive change.